"I'm excited for what the future holds for me."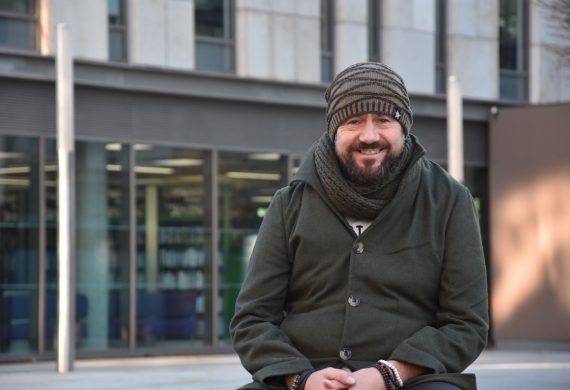 "I'm excited for what the future holds for me."
Following support and training from Building Better Opportunities John Ratcliff has turned his life around wants to help people in Staffordshire overcome their own addictions.
Overworked and debts spiralling, the father of three hit the bottle. The consequences were catastrophic with John losing his business, his long-term partner and facing prison before getting his life back on track.
John's Story
A hardworking father-of-three, John was a self-employed milk man with a number of milk rounds across Stafford. " By the time I was 17 I was a full-time self-employed milk man. At 34 I was my own boss, met my wife, moved to Stafford, we went on to have three girls and did everything together."
All was well for the family until the stress of the business began to take its toll on his relationship. John and his partner began to drift apart, the business began to suffer and business-related debt started to mount.
"Eventually my partner left and the business was just in a mess but my answer was just to work harder and harder. I was working up to 60 hours a week but the debts were relentless and just kept piling up."
As the debts piled up, so did the stress with John finding temporary relief in alcohol; "It started with one drink at night but then escalated to one bottle a night. Everything was piling up; my marriage was over, I owed £100k to the dairy, I needed to pay child support, I was caring for my mum. The pressure was building and building and I was now up to drinking 2 or 3 bottles a night."
"At this point I was also drink driving. I'd been stopped by the police once going the wrong way down a one-way street but got away with it. I thought I was invincible, that was until I hit four parked cars.
"At that point I knew I was out of control and just stood and waited for the police to arrive."
"A fortnight before the crash there were ongoing family issues centred around access to the girls. I was drinking at home alone when things escalated with my partner. I was subsequently arrested for 10 counts of assault dating back to 2005. Ultimately I was charged with assault by battery and drink driving."
John's business and family life were over, he had a criminal record and had become a person he no longer recognised. "I put myself into St. George's Hospital and it's there I started to realise what I was doing wasn't normal. I had a problem. Drinking daily just for dutch courage to face the day is not normal. For five years I'd been battling depression and anxiety and self-medicating with alcohol."
Making The Decision To Change
On the 24th August 2017 John made the life-changing decision to address his alcohol dependency; "I poured all the alcohol down the sink. I was in withdrawal; hallucinating, heaving, liver and kidney problems. Withdrawal was grim but I said to myself "don't forget how this feels, you've done this to yourself. I haven't had a drink since, my health is improved, my liver and kidney function are back to normal."
Making the decision to stay sober and keep his life on track; John was supported by the Probation Service who signed him up to a 16-week Peer Mentor course. It was a tough course that meant travelling to Stoke-on-Trent each week but John was determined to grab the opportunity with both hands, and that's exactly what he did.
Following his success with the Probation Service, John was eager to take advantage of as many opportunities as possible to support a stable lifestyle and maximise his new postive attitude. "The Job Centre referred me to the BBO Programme, that's where I first met Angi. She encouraged me to start saying yes to things and that was a game-changer. I completed free training with the BBO programme and achieved my First Aid Certificate. I also updated my CV and worked with the Careers Coach to improve my interview skills."
Getting Support From Building Better Opportunities
Building Better Opportunities Stafford & South Staffordshire supports participants in all areas of their life. The programme takes a person-centred approach to ensure that any and all barriers a participant is facing are addressed. For John this not only meant support and training in relation to his skills and employment but also addressing the debt that had consumed him for a long time. "I met Lina from CAB and she helped me an awful lot with my debts. I'd had debts for as long as I can remember and the pressure from ignoring them just kept building and building. Lina helped me to face-up to the debts and to start to manage them which took away that overwhelming feeling. One of the best things about BBO is the contacts. The BBO team have a huge network of people and resources that support you in all areas of your life."
"As an alcoholic, drink consumes your life, your life is focused on the desire to get a drink and then living within the drink. You lose interest in everything, except the drink. So when you've stopped drinking and you go back to your house alone, it's easy to slip back into that old life. "I attended Rising Brook Work Club weekly meeting with Rob and Angi. The Work Clubs were a good place to meet people and get to know other people outside of your past circle."
Through a network of support and his own self-will John has overcome his addictions, faced his debts and built an impressive CV. John now has a secure home life with regular contact with his children. "Sometimes it feels like the world is waiting for you to slip over. But as a person I'm stronger now, I know I want to be a good Dad and the children are safe with me. I'm excited for what the future holds for me."
How Can We Help You?
Building Better Opportunities Stafford and South Staffordshire works with residents across Stafford and South Staffordshire who are experiencing multiple barriers to employment.  It's a bespoke programme, meaning each and every person that joins has an individual action plan that aligns with their personal needs.  The programme is completely free for all participants, meaning you're able to focus 100% on improving your personal, financial and employability skills.  This programme is jointly funded by the European Social Fund and National Lottery Community Fund.
To find out more about Building Better Opportunities Stafford and South Staffordshire complete the green form at the bottom of this page, call us on 01902 696 228 or email bbostaffs@gmail.com