Former engineer removes "his armour" and now enjoys mindfulness days on the farm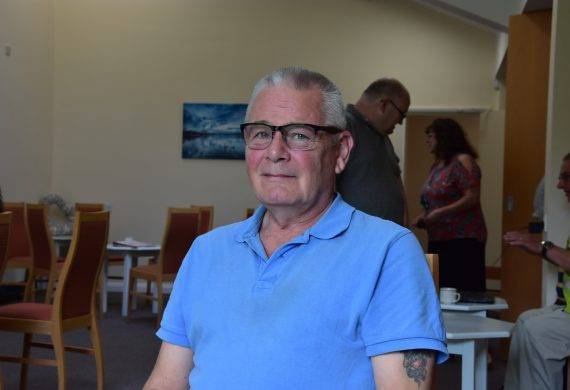 Former engineer removes "his armour" and now enjoys mindfulness days on the farm
David is an inspiration of a man.  With the help of his wife, he literally pealed himself off the kitchen floor following a mental health breakdown and is now a shining example of how attitudes can change by investing time in yourself.
David's Story
David had a long and successful career in the macho engineering industry, he achieved degree-level qualifications and was a certified member of the Chartered Institute of log and transport (CIT).
A proud man, with family values at his core, David has always happily provided for his family.  "I was a field engineer until 2016 when I was forced to leave the role and walk away from a 40 year career, all because of workplace bullying."
Bullying had taken its toll on a hardworking family man in his 50's.  "I'm a Black Country bloke and I was built to work.  I thought I just needed to suck it up and get on with it.  Only I couldn't, they had broken me.  I was a blubbering, crying heap on the kitchen floor."
"I have always provided for my wife and family.  My wife didn't have to work, that was my job and we've had a good and comfortable life.
Suffering with mental health problems and unable to work David started to draw his pension early to take care of the family.  However as money got tighter and his wife took-up part-time work to make ends meet.
"I was diagnosed with depression and anxiety due to the workplace bullying and had two courses of CBT from the NHS, but I really struggled with the CBT."  Finding little resolve from treatment, David's mental health continued to decline.  "I found myself physically using my wife as a shield.  I would hide behind her, so I didn't have to speak to people and would shy away from all interactions with people.  I constantly felt that I had let my family down and I was totally overwhelmed, even by small decisions like did I want a cup of tea!"
Concerned about his pension and with his confidence and mental health in tatters, David was referred to Building Better Opportunities Stafford & South Staffordshire by the Job Centre.
Support From Building Better Opportunities
Each and every person that joins Building Better Opportunities Stafford and South Staffordshire is paired with their own Advocate.  An Advocate is there for you and will help you to set up a personal action plan. The targets in your action plan will be decided by you, and your advocate will offer support to help you achieve them.
David attended Codsall Work Club on a weekly basis where he would meet with his Advocate Angi and work towards the goals in his personal action plan. "As I started to work with Angi and Brian more things started to change in my life.  It was a real revelation that the people doing this actually cared.  Angi is attentive to needs that I didn't even know I had!  The activities we selected have come at the exact right time for me.  She knew where I was at, got inside my head and paid attention, allowing me go at my own pace, when I was ready and never pressuring me."
A total pessimist initially, David wasn't convinced that the programme would help him and assumed it was just another scheme to force people back into work. As part of David's personal action plan a referral was made to Upper Moreton Rural Activities, which is a farm that runs a ten week programme of activities to help improve wellbeing, confidence, team-working and communication skills.  David recalls: "The first time I visited the Farm, I thought this isn't for me.  I looked around and thought I aren't like these people, the amount of times I could have walked away that day."
The moment things really clicked for David was during a visit to Upper Moreton Farm which Carol Carney runs. "I was taken back as Carol genuinely seemed bothered.  It stood out to me as it was so different to other support out there. That day, watching Carol, it dawned on me, these people didn't have to do this, they wanted to and they wanted to help."
"I was cynical at first but 3-4 weeks in, I was willow weaving and I loved it!  Some people might think what on earth, a grown man willow weaving, in fact I may have thought that once upon a time but I don't care anymore. It's so peaceful and relaxed at the Farm, I really enjoy it and it calms my mind.  Carol is so caring and listening to her talk so passionately about helping others is inspiring"
Another of the activities David has taken part in, is the Challenge Academy.  A purpose built aerial-ropes adventure course in the West Midlands.  Participants are recommended for Challenge Academy to develop their trust, confidence and team building skills.  "When taking part in Challenge Academy, I rediscovered my assertiveness.  It was like I was stood behind myself, watching this new person.  I realised then, you only get out what you put in."
Breaking Down Barriers
David has also attended an Introductory to Carpentry Course at the Forest of Mercia.  He has put these skills to good use and now volunteers at both The Forest of Mercia and Upper Moreton Rural Activities, helping other participants in the woodwork workshop.  David says "I want to give something back and help other people in the same way as the programme has helped me". Alongside this David has made some bird boxes which he has sold and he now makes wooden items to sell on his own stall at community festivals.
Reflecting on his journey, David says: "Looking back I had been so naïve, I'd trusted my employer and they failed me.   I gave the best years of my life to my career, I'd never had a work life balance, I'd missed the kids growing up with always being at work and now I was left a blubbering mess on the kitchen floor!  The programme has made a massive difference though and I now know I'm the complete opposite of the person who put me here.
"I still struggle with certain situations like too much noise and crowded places, which trigger my anxiety but I can manage it much better now.  Looking to the future I'd like to work part-time doing something that puts a bit of money in the back pocket but also feeds the soul.  I like putting a smile on people's faces."
"Building Better Opportunities has given me the opportunity to open myself up in a safe environment.  It's allowed me to try new things without being ridiculed, mocked or shouted at.  Each and every morning I felt like I used to put my armour on and not let anyone close to me.  I still have my down days but they are getting less and less."
How Can We Help You?
Building Better Opportunities Stafford and South Staffordshire works with residents across Stafford and South Staffordshire who are experiencing multiple barriers to employment.  It's a bespoke programme, meaning each and every person that joins has an individual action plan that aligns with their personal needs.  The programme is completely free for all participants, meaning you're able to focus 100% on improving your personal, financial and employability skills.  This programme is jointly funded by the European Social Fund and National Lottery Community Fund.
To find out more about Building Better Opportunities Stafford and South Staffordshire call us on 01902 696 228, email BBOStaffs@gmail.com or complete the form in the green box below.