How To Cope With Financial Stress This Christmas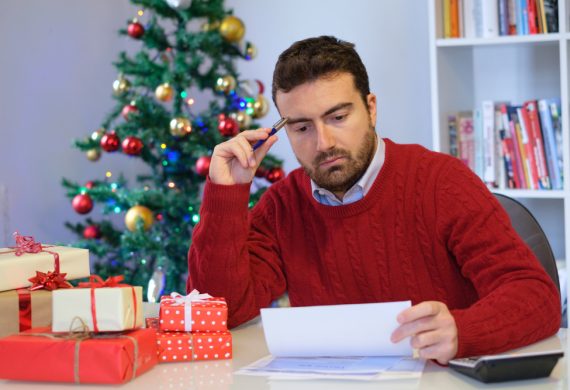 How To Cope With Financial Stress This Christmas
Christmas is just around the corner, which means it's the most wonderful time of the year. This is commonly acknowledged, however, it is not as widely acknowledged this time can also be the most expensive time of the year. Rising living costs are enough to handle and adding on the heavy price tag of Christmas shopping and activities on top can put huge financial pressure on many families. If you find yourself in an unfortunate situation this winter, please know that you're not alone. There are key steps you can take to ease the pressure. 
As such, we've put together these money saving tips to help you through a potential Christmas induced financial crisis. By following these steps, you should feel a release of stress and hopefully enjoy this coming Christmas season. 
1) Start a Budget 
The most popular tip to start a monthly or weekly budget. It doesn't have to be complicated or require the cost of an accountant. A simple template on paper or an excel sheet and listing out your income and expenses has proven very effective. 
Be smart about your savings, this means cutting back on summer holidays and putting it towards Christmas instead. Make a shopping list before heading out to the shops and set a reasonable spending limit for each person to avoid overspending.
2) Look out for Discounts and More
Everyone loves a bargain or a discount, and you will do well to take advantage of them when you can. Don't forget about signing up for email subscriptions on your favourite brands for exclusive offers when you shop online. 
Another proven technique is to do the majority of shopping and take advantage of sales events including Black Friday (November 25th) and Cyber Monday (November 28th). If you tend to leave your shopping last minute, aiming to get it all done earlier will help you save money.
3) Cut Down on Unnecessary Gifts
This might be a tricky one but be strict on who you're giving gifts to. For those who are not on your list, explain to them and suggest that there's no need to exchange gifts. Chances are, they will be feeling the same way and want to reduce their Christmas spending too. Instead of gifts, plan a free or inexpensive activity to do together. 
4) New Traditions
A fantastic way to save money is to suggest a new tradition of Secret Santa with a group of friends, coworkers or even your family. It's a fun way to exchange gifts while cutting down on spending each year and everyone receives a gift. If you haven't heard of Secret Santa before, it involves everyone drawing a random name from a hat and you are the Secret Santa for the person you draw. Usually, people set a spending limit so all the gifts are around the same value. This ensures the costs of the gifts do not become insurmountable. 
5) Reduce, Reuse, and Regift
Have you ever received an unwanted gift or the same gift twice throughout the year? This is the perfect way to declutter and give those items to a better home. Not only does it massively cut down on spending, but it's also sustainable and good for the environment!
6) Book In Advance 
If you're planning to head abroad or travel home this year, book plane tickets well in advance before it's too late as prices tend to rise dramatically the closer we get to Christmas. 
Seasonal activities like ice skating, visits to see Santa and Christmas markets are magical and fun for all the families but can be expensive and prices can add up quickly. You should consider cutting down on these activities but for ones you wish to attend. You may also wish to book in advance or choose early bird tickets if available to save a few pennies.
Financial Advice in Stafford and South Staffordshire
While following these steps can be effective, we understand it's not always that easy when you're stressed and worried about finances. If you find yourself in this position, please feel free to call us and speak to a friendly member of our team. We are a non-judgemental and face-to-face service dedicated to helping people through financial advice, employment support and more.