"I was unemployed for 20 years. Now I'm a changed man."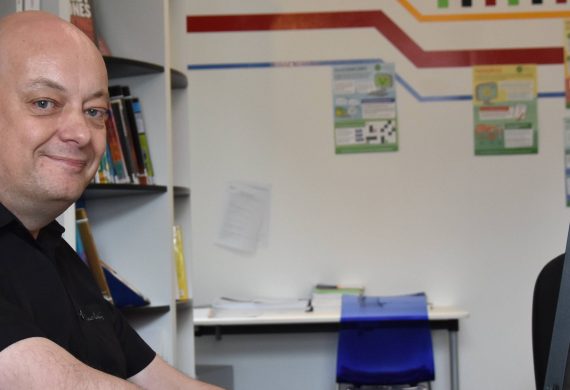 "I was unemployed for 20 years. Now I'm a changed man."
Mark Jones is 48 years old and hasn't had a job since his twenties.  A bright and capable chap, Mark previously enjoyed education and had previously studied with Learndirect to achieve maths, English and ECDL qualifications.  Mark has a particular passion for English.
Mark struggles with depression and anxiety which he says: "only worsened the longer I was unemployed.  The longer you're unemployed, the more isolated you become and that voice in your head keeps telling you how worthless you are."
Battling with mental health issues day-in-, day-out, Mark also has hearing difficulties and Post Traumatic Stress Disorder (PTSD).  Following 20 years unemployment, Mark was referred to the Building Better Opportunities Stafford and South Staffordshire programme by his local Job Centre.
Mark's Story
"I first attended Holmcroft Work Club where I met my Advocate; Angi.  At the time I wasn't doing anything with my life.  I was claiming benefits, unemployed and spending a lot of time alone.  Meeting Angi and joining Building Better Opportunities really opened doors for me."
"Building Better Opportunities can help you with so many things.  For me it was my confidence I was struggling with the most, after being isolated and alone for so long.  Angi working with me at my pace to develop my confidence and the volunteering opportunities also really appealed to me."
"I'm now volunteering at the Stafford Work Club, where I help other participants with computers and IT skills.  Volunteering has really helped with building my confidence, people actually ask me for help and I'm able to help them.  It's taught me I have value and skills to offer.  I've also been able to work on my social skills; I used to stay in all the time and hide away but now I'm talking to people, able to go out more and I definitely have a lot more confidence.  There are also lots of opportunities with the programme."
Now an active member of the Building Better Opportunities community, Mark says: "My advocate is great, she's not pushy but is encouraging and very understanding.  The people genuinely appreciate you and they've helped me to realise that I am of value.  The team here really believe in you.  It's the first time in a long time that anyone's believed in me and it's a really good feeling.  I now feel ready and confident for employment."
Mark received the biggest confidence boost of all, when he secured full-time employment: "Without Building Better Opportunities I would still be unemployed, thinking I was alone and here was nowhere to go for help."
How Can We Help You?
Offering his advice, Mark says: "My advice to others that have been unemployed for a long time is; it doesn't matter how late in life it is, there is still chance to change things.  I was unemployed for 20 years but now I'm rebuilding my life and you can too."
Building Better Opportunities Stafford and South Staffordshire works with residents across Stafford and South Staffordshire who are experiencing multiple barriers to employment.  It's a bespoke programme, meaning each and every person that joins has an individual action plan that aligns with their personal needs.  The programme is completely free for all participants, meaning you're able to focus 100% on improving your personal, financial and employability skills.  This programme is jointly funded by the European Social Fund and National Lottery Community Fund.
To find out more about Building Better Opportunities Stafford and South Staffordshire call us on 01902 696 228, email bbostaffs@gmail.com or complete the green form below.