"I've made friends, I have people to talk to and I'm not alone."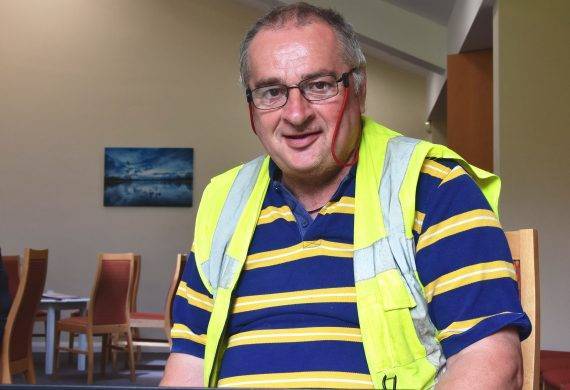 "I've made friends, I have people to talk to and I'm not alone."
David has lived with learning difficulties and a speech impediment all his life.  As a child he attended boarding school until the age of 17, where he progressed to Adult Training Centres (ATC) before going on to work for Staffordshire County Council and then Remploy.  "I enjoyed education and I've always loved working." says David.
After 16 years employment, David was one of over 2,500 Remploy employees made redundant, as the doors were closed on factories across the UK.  Since then David has struggled to find work in a job market that has limited opportunities for those with learning difficulties.
Despite the loss of a job he loved, David has by no means let his employment status affect his attitude.  He's a happy chap with a welcoming smile, willing to chat with anyone.  We sit down to chat about his experience of Building Better Opportunities Stafford and South Staffordshire.
"I was angry when I was made redundant as I've always enjoyed work and I like to keep myself busy."  Not one to be easily defeated, David was signposted to Codsall Work Club and the Building Better Opportunities programme. "I first came along to the Work Club because I knew I just wanted to be doing something.  I don't like sitting at home, doing nothing and I knew that the Work Club would help me."
Since joining Building Better Opportunities Stafford and South Staffordshire, David has had access to an abundance of support including Challenge Academy, a high-rope course aimed at helping participants to improve their confidence, trust, communication and team-working skills. "I completed Challenge Academy, at first I was scared but once I did it, I was so proud of myself." He says with his trademark big grin.  "The activities I've done have taught me that I can do anything.  Nothing can hold me back." Confesses David with the steely determination of someone who lives a happy and independent life regardless of his learning difficulties.
The Building Better Opportunities programme works with participants to agree an individual action plan addressing each participant's individual needs.  As participants progress through the programme and grow in confidence, opportunities for work placements and voluntary work are available.
David has now been supported to start volunteering at RAF Museum in Cosford, where he enjoys interacting with visitors and showing them around the Museum.  "I'm a people person, I love to meet new people and volunteering at the Museum helps me to do that."
Good with his hands, having spent years on the Remploy production line making components for light fittings.  David has also visited Upper Moreton Farm as part of his action plan, where he has been fine-tuning his DIY skills. "I made a wooden planter." He proudly says when asked what activities he has been doing.
David is clearly a confident chap, he enjoys chatting to people and doesn't let his speech impediment hold him back.  "I've definitely built my confidence through the Building Better Opportunities programme."
David explains what other areas of his life the programme has had an effect on: "Since joining Building Better Opportunities I've improved my digital skills.  Using the computers was something completely new to me but now I'm confident with the computers."  So confident in fact, David pulls out a laptop bag; "I've brought my own laptop!  I saved up and now I can use it for job searches, reading the news and also for photography, which is something else I really enjoy."
At the start of the programme all participants are assigned a dedicated support worker, also known as Advocate.  The Advocate's work closely with participants to ensure you are fully supported every step of the way.  Alongside his Advocate, Jenny, David is working his way through a tailored programme that addresses his personal needs. "I like working with Jenny." He tells us.  "She is very good at supporting you.  I look forward to coming to the Work Club each week and really enjoy it when I'm here.  I've had support with computers, job searches and updated my CV."
"Building Better Opportunities has made a big difference to my life." David tells us with a beaming smile. "I've made friends, I have people to talk and I'm not alone.  The people here listen to me and support me."
Explaining his plans for the future, David is clear on his ambitions: "I want to work.  In the meantime, I will continue with voluntary work.  All I know is I don't want to be sitting around.  Working is the best way forward."