"I'm determined to live the best life I can", says Ellie after years of bullying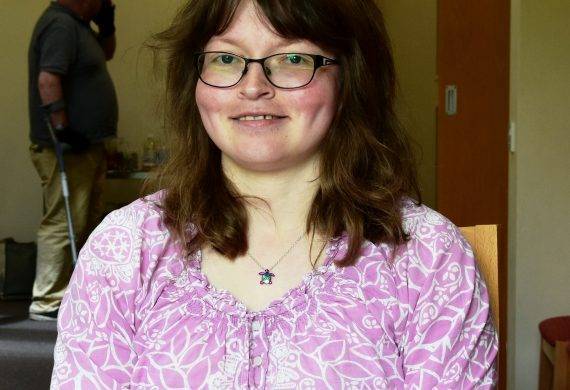 "I'm determined to live the best life I can", says Ellie after years of bullying
Ellie moved to Codsall in 2017, where she found herself joining the Building Better Opportunities programme having muddled through the education system and now 22 and unemployed.
"I left high school with weak grades, they were all D and E grades. I went to college but have always struggled with learning and was unable to get a job after leaving college."
"There were a lot of changes in my life, we moved here last year and I found out about Building Better Opportunities on the internet."
Throughout her childhood and teenage years Ellie was the victim of bullying.  A 2011 study revealed more than 16,000 young people are absent from school due to bullying* which can have a lasting effect on the quality of education received.   "As soon as people see something different they target you.  I was bullied throughout school and college which really affected my confidence and learning whilst growing up."
Ellie continues: "I didn't get the support I needed or that I was entitled to throughout my education."  As a result Ellie has minimal confidence, struggles to trust others and poor qualifications.
"Through the programme I'm learning to mix with others.  I'm still learning to trust people but activities like the Challenge Academy have helped with that.  When I first came along to the Work Club in Codsall, I was really nervous.  I came on my own and I was a bit wary as I've never fitted in anywhere before."
With the guarantee of a warm drink, a friendly team and informal environment, the Work Clubs are proving to be a popular event for participants.  Ellie adds: "Once I was there, it didn't take long for me to realise I would fit in."
When asked what skills she's learnt whilst with Building Better Opportunities, Ellie says: "I'm learning so much on the programme; I'm working with others and with people of various ages which was something I wasn't used to.  I've learnt to put myself first and not to be scared to ask for help when I need it.  I've improved my confidence and realised what I can and can't do."
In fact, Ellie's confidence has blossomed so much that she took to the stage to speak in front of 400 people at an event alongside The Challenge Academy to promote the Building Better Opportunities programme.  No mean feat for someone who at the start of the programme struggled to speak with others.  Ellie has also been completing regular voluntary work at a local art gallery where she was assigned a mentor and interacted with customers, as well as volunteering in charity shop. "I really enjoy the voluntary work.  I do general duties like tidying and stocking the shelves, I use the till and the volunteering work has also helped me to better understand change and how to cope with change."
As someone that struggled with education and training environments in the past, Ellie has completely embraced Building Better Opportunities and been able to develop in many areas that had previously held her back from employment. "Building Better Opportunities lets you do things at your own pace so you're not overwhelmed.  The best bit has the help and support from everyone.  Clare is my Advocate and she is really helpful.  Any problems she deals with quickly and she's connected to so many other people and support, that she know exactly the right people to help, whatever your needs."
Discussing her plans for the future, Ellie tells us: "Building Better Opportunities has made me more determined.  I'm in a better place and more confident, so I'm ready to start college in September.  I'll be studying for my maths GCSE and continuing with my volunteering.  It's an important qualification which will help me secure a job in the future.  I'm determined to live the best life I can."
Building Better Opportunities Stafford and South Staffordshire works with residents across Stafford and South Staffordshire who are experiencing multiple barriers to employment.  It's a bespoke programme, meaning each and every person that joins has an individual action plan that aligns with their personal needs.  The programme is completely free for all participants, meaning you're able to focus 100% on improving your personal, financial and employability skills.  This programme is jointly funded by the European Social Fund and National Lottery Community Fund.
To find out more about Building Better Opportunities Stafford and South Staffordshire call us on 01902 696 228 or email bbostaffs@gmail.com