New club helping to change lives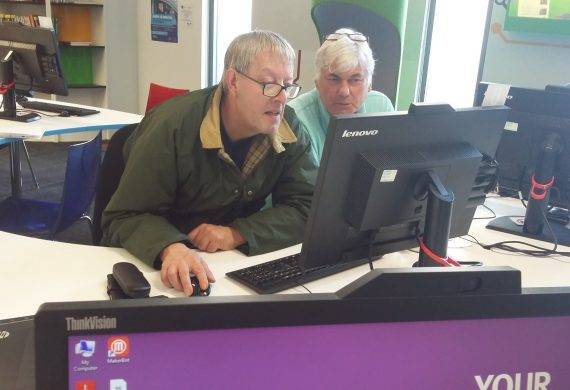 New club helping to change lives
A new weekly club at Stafford Library is supporting unemployed residents across Stafford to gain new skills, reduce isolation and boost their confidence.
The new Work Club takes place every Thursday 2pm-4pm within the Innovation Suite at Stafford Library. Experienced advisors from Support Staffordshire and Citizens Advice Bureau are on-hand to offer free advice and guidance with IT skills, job searches, CV writing, Interview skills, budgeting skills, housing and benefit support, debt management, plus lots more.
Andrew's Story
One person who has benefitted is Andrew Babb, Andrew explains: "The best thing about BBO (Building Better Opportunities) is being shown how to use a computer, going on a basic IT training course and receiving a certificate. Also, attending the Stafford Library Work club has helped with my confidence and I am now looking to volunteer at the hospital with the Stafford League of Friends."
Rob Arnold, Senior Employability Officer for Support Staffordshire added: "The new Thursday club is proving to be a real winner. More and more people from across Stafford are joining us each week and are taking up the offer to develop their skills and enhance their experience in order to gain more life choices."
Work Club Dates & Times in Stafford
The launch of the Thursday club follows the success of other clubs across Stafford including:
• Stafford Library, Monday mornings, 10am to 12pm
• Holmcroft Library, Monday afternoons, 2pm to 4pm
• Rising Brook Library, Tuesday mornings 10am to 12pm
• The Northfield Centre, Wednesday mornings, 10am to 12pm.
The five, weekly drop in sessions in Stafford are run by Support Staffordshire as part of the Building Better Opportunities Stafford & South Staffordshire programme. This project is funded by the European Social Fund and The National Lottery Community Fund. The programme supports those living in Stafford who are currently unemployed or not working. Participants of the programme can access free advice and support including; IT courses, careers guidance and access to training and volunteering.
To find out more about the Stafford Work Clubs, or find out how you or your business could get involved, contact Rob Arnold on 07792 241 008 or complete the green form at the bottom of this page.