"The help I've had is fantastic and has helped both my mind and body."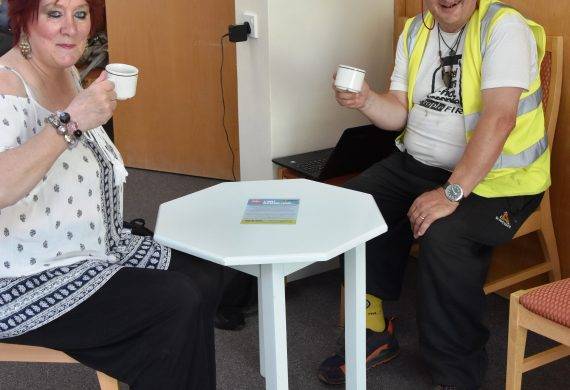 "The help I've had is fantastic and has helped both my mind and body."
Claire has benefited from a holistic support package from Building Better Opportunities that has had a positive impact on all aspects of her life.
"Previously life has been a struggle, which in turn has added to my worries and stresses.  Before joining the programme I was very isolated."  Claire has arthritis in her hip and has been crippled by mental health problems for years, "I would try and hide myself when going out anywhere.  I didn't want people to see me because of the way I walk and the way I look.  I struggled to face society, it was a struggle to go to the shop or just to even go out.  I would cross over the road to avoid people whether I knew them or not."
Claire's mental health battles have dominated her life for a long time. "Previously I've wanted to hurt myself. I'd been in a very dark place for a long time." Locking herself away, losing contact with friends and family, Claire had begun to merely exist and forgotten what it was to live a happy and fulfilled life.
Relying on medication for her depression and anxiety, Claire was stuck in a lonely cycle of low self-worth, zero confidence and minimal self-care.  Through Building Better Opportunities, Claire has been introduced to a new holistic approach to her health and wellbeing.  "The help I've had is fantastic and has helped both my mind and body. I now have access to the gym where I attend two or three times a week and work with a trainer.  Exercising is helping me both physically and mentally.  It's a great feeling I have when I leave."
"Building Better Opportunities is a big umbrella of help and support and most importantly it's hands-on support.  I've had support from the Citizens Advice Bureau who have helped me to reduce my utility bills.  Challenge Academy, which is something I never dreamt I would be able to do but I did do it.  I achieved something I never thought I'd do and that gave me such a confidence boost.  I've completed training including my First Aid Certificate and I'm starting another course next week.  I visit the Recovery Hub twice a week for classes that support my mental wellbeing."
How BBO Supported Claire
Research shows, that when we're depressed, we start to lose respect for ourselves.  Building Better Opportunities has supported Claire to rebuild her self-worth and to prioritise self-care. "The programme has raised my aspirations, I dress up now.  I like nice clothes and I take pride in my personal appearance.  I feel like the belle of the ball."
As well as the activities on their personal action plan, participants also attend weekly or bi-weekly Work Clubs that operate across Stafford and South Staffordshire.  Claire has been attending the Codsall Work Club on a Thursday morning where she is familiar face among participants and staff alike.  "Thanks to coming here, it's excelled all positive things in my life.  Every part of life has improved and just keeps getting better.  The friendships and the kindness I've received make you realise there are positive things in the world.  I've now got so much going on, the routine is helping to keep me busy, which in turn helps my depression.  I feel like I have a purpose now."
Attending activities, workshops and training has all contributed to reducing the isolation Claire was previously experiencing.  She is now a bubbly character who talks passionately about the Building Opportunities programme and fondly of her new friendships and support network. "Building Better Opportunities has had a domino effect on my life.  We all vibe of each other, supporting each other and achieving together.  I love team working and mixing with people of all ages and abilities, it's been comforting meeting people in the same boat as me.  I fit in here."
Reflecting on how far she has come on her journey to overcoming obstacles, Claire says:  "It's very easy to slip into insolation mode but here I have the feeling of being wanted and knowing you're not alone. I feel important coming here, you're part of everything and never looked down on.  The help I've had is fantastic. It was like being brought in from out of the cold after so many years where I felt very alone."
"I would advise everyone to come.  Without the help I've received I wouldn't be here.  Clare, Ryan, the whole team in every way; emotionally, financially, physically, mentally.  I don't know how I would have managed without them.  It's changed my life.  It's been like winning the lottery but even more valuable!"
Claire advises others in a similar position to her, to not suffer alone, she says: "Please come and join in, the people here are wonderful.  I was in a really dark place and coming here is a ray of sunshine."
How Can We Help You?
Building Better Opportunities Stafford and South Staffordshire works with residents across Stafford and South Staffordshire who are experiencing multiple barriers to employment.  It's a bespoke programme, meaning each and every person that joins has an individual action plan that aligns with their personal needs.  The programme is completely free for all participants, meaning you're able to focus 100% on improving your personal, financial and employability skills.  This programme is jointly funded by the European Social Fund and National Lottery Community Fund.
To find out more about Building Better Opportunities Stafford and South Staffordshire complete the green form below, call us on 01902 696 228 or email bbostaffs@gmail.com