Volunteers celebrated at annual awards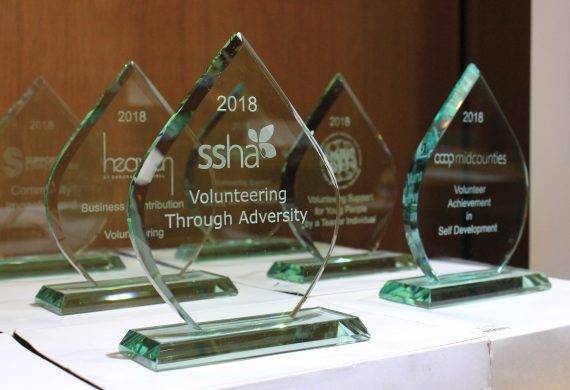 Volunteers celebrated at annual awards
Participants from the Building Better Opportunities Stafford & South Staffordshire programme were recognised at an awards event celebrating volunteering.
Volunteer Star Awards
Support Staffordshire (South Staffordshire), South Staffordshire District Council and The Staffordshire Council Of Voluntary Youth Services held their annual Volunteer Star Awards on Wednesday 5th December at the Council Chambers in Codsall.  Eight Building Better Opportunities Stafford & South Staffordshire participants in total were nominated in the awards which publicly recognise and acknowledge the hard work and support that volunteers give to the community of South Staffordshire.
Winners:
Volunteering Through Adversity: David Norman
Volunteer of the Year (under 25): Ellie Hickman
Community Impact Award: Brewood Library
Volunteering Achievement in Self Development: Karen Cook (highly commended)
Ellie Hickman, aged 22 joined Building Better Opportunities Stafford & South Staffordshire having moved to Codsall.  Ellie has completed regular voluntary work at a local art gallery where she was assigned a mentor and interacted with customers, as well as volunteering in a charity shop.  Ellie said: "I really enjoy the voluntary work.  I do general duties like tidying and stocking the shelves, I use the till and the volunteering work has also helped me to better understand change and how to cope with change."
Discussing her plans for the future, Ellie tells us: "Building Better Opportunities has made me more determined.  I'm in a better place and more confident, so I'm ready to start college where I'll be studying for my maths GCSE and continuing with my volunteering.  It's an important qualification which will help me secure a job in the future.  I'm determined to live the best life I can."
How Can We Help You?
Building Better Opportunities Stafford and South Staffordshire works with residents across Stafford and South Staffordshire who are experiencing multiple barriers to employment.  A bespoke programme, meaning each and every person that joins has an individual action plan that aligns with their personal needs.  The programme is completely FREE for all participants, meaning you're able to focus 100% on improving your personal, financial and employability skills.
To find out more about volunteering opportunities through Building Better Opportunities Stafford & South Staffordshire complete our quick and easy online referral form, call 01902 696228 or email bbostaffs@gmail.com