We're an award-winning partnership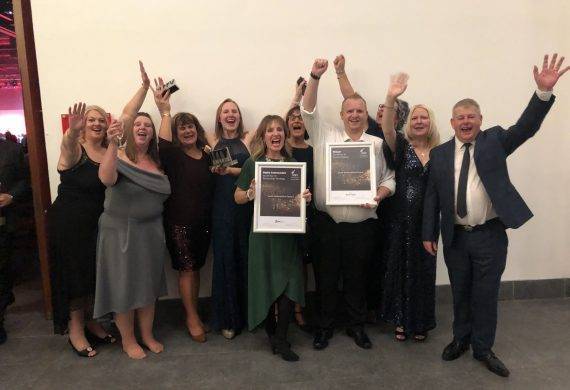 We're an award-winning partnership
Building Better Opportunities Stafford & South Staffordshire are celebrating having been awarded Excellence in Social Inclusion.
The black tie awards gala hosted by The Institute of Revenues Rating and Valuation took place at Telford International Centre on Wednesday 10th October 2018.  Shortlisted organisations from across the country came together to celebrate the impact of Welfare, Benefit and Revenue initiatives.
An Award-Winning Partnership
Building Better Opportunities Stafford & South Staffordshire were commended for their work with vulnerable individuals, resulting in the top award for Excellence in Social Inclusion.  The programme was also awarded 'Highly Commended' in the Excellence in Partnership Working category.
David Gibson, Programme Manager for Building Better Opportunities Stafford & South Staffordshire, commented: "Since the programme began last year we have supported 350 people.  To date, 188 people have reported that they now have fewer barriers to work and 43 people are now in employment thanks to work we do."
About Building Better Opportunities
Building Better Opportunities Stafford & South Staffordshire is a partnership of 14 organisations from across Stafford and South Staffordshire who work together to tackle the multiple barriers to employment that residents face.  The programme, jointly funded by the  European Social Fund (ESF) and the National Lottery Community Fund, focuses on a holistic approach addressing residents' mental and physical barriers in a bid to move them closer to employment.
The partnership is led by Business Enterprise Support (BES) and made-up of a variety of strategic and delivery partners including: BEAM, Citizen Advice Bureau Staffordshire South West, Fuse Enterprise CIC, South Staffordshire District Council, South Staffordshire Housing, South Staffordshire Work Clubs, Stafford and Rural Homes, Staffordshire Chambers of Commerce, Staffordshire Women's Aid, Support Staffordshire, Upper Moreton Rural Activities, University Hospital North Midlands and Youth Enterprise.
Judith Kirkland OBE, CEO Business Enterprise Support (BES), commented on the accolade: "We're delighted to be recognised for the valuable work the project delivers to residents across Stafford and South Staffordshire.
"We know that one-size-fits-all training is not a sustainable model for supporting unemployed people with complex needs.  This means we consciously work to address the individual needs of each and every person that walks through our door.  The programme is having a life-changing effect on people who have often not worked for a very long time or even never worked at all, but through our project participants now have a sense of self-worth and the confidence to go out into society and contribute."
In the same week as the award win, another participant of the programme secured full-time employment following 20 years of unemployment.  Mark Jones, aged 48 from Stafford struggles with depression and anxiety which he says "only worsened the longer I was unemployed.  The longer you're unemployed, the more isolated you become and that voice in your head keeps telling you how worthless you are.  Without Building Better Opportunities I would still be unemployed, thinking I was alone and there was nowhere to go for help."
Offering his advice, Mark says: "My advice to others that have been unemployed for a long time is; it doesn't matter how late in life it is, there is still chance to change things.  I was unemployed for 20 years but now I'm rebuilding my life and you can too."
For more information about Building Better Opportunities Stafford and South Staffordshire complete the green form at the bottom of the page or call 01902 696228.